BLACK FRIDAY SALE
10% OFF plus FREE Intercom Accessory Pack

Not only is Livemix on sale for 10% off but, for a limited time, get a FREE Livemix Intercom Accessory Pack ($375.97 value) by mail with the purchase of a Livemix system. Buy any Livemix system bundle and we'll send a free Intercom Accessory Pack upon product registration.
The Intercom Accessory Pack includes:
• LM-MICPRE external intercom mic preamp
• FP-2 foot pedal for hands free mix and intercom control
• 6' TRS cable to connect FP-2 to a CS-SOLO or CS-DUO
Please allow up to 4 weeks for the Intercom Pack to ship.
PROMOTION DETAILS
• Promotion is valid from November 18th through December 2nd, 2019.
• The Livemix system must have been purchased after November 18, 2019 and before December 2, 2019 to apply for the promotion.
• The Livemix Intercom Accessory Pack is a $375.97 value.
• A Livemix system must consist of a 1) MIX-16 or MIX-32 2) Dante input card or AD-24 and 3) at least 1 CS-SOLO or CS-DUO..
• Register the Livemix system by emailing sales@digitalaudio.com or at https://www.digitalaudio.com/product-registration/ or http://digaud.io/register
Promotion is subject to all applicable laws and taxes. Promotion is subject to change or cancelation without explanation or notice.
FREE FIRMWARE UPDATE VIDEO
New features and LM-MICPRE integration
FREE FIRMWARE UPDATE
New features and LM-MICPRE integration
FREE LM-MICPRE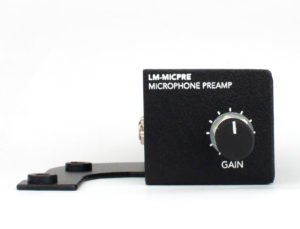 FIRMWARE UPDATE
We've got a great Livemix update for you! This is packed with some new features including the plumbing for our new LM-MICPRE. Y'all have been asking if you can use the Aux-in for an intercom mic and with the LM-MICPRE and this update, you can. This update also features:
Global MirrorMix to send a mix to all personal mixers at once
Quick Save for quickly saving changes to a mix
Long Press on X to exit to Channel Overview from any menu depth
Add Accessory Channels to groups
LM-MICPRE plumbing for using LM-MICPRE to use an external dynamic mic with the intercom
Passcode support for Global MirrorMix
Change volume limiter to never mute the personal mixer
Added Intercom on indicator to status bar
LIVEMIX OFFICIAL USERS GROUP
Come ask the Livemix experts!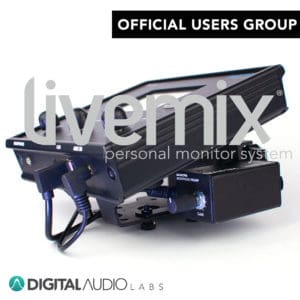 We've launched an Official Livemix users group over on Facebook. If you have questions about Livemix, wonder how you can use it, want to know some power features, or need help, this is the place to get it. Officially. Head on over to the group and ask to join, we can't wait to see you there. https://digaud.io/OUG
LIVEMIX GOES 96K
The new LM-DANTE-EXP2 Dante Option Card allows integration into 96K Dante networks
The new 96K Dante Option card is a running change upgrade to the DANTE-EXP card. It will be automatically supplied with all new Livemix Dante systems. Compatible with standard sample rates up to 96K and featuring dual network ports for redundant networks, the new option card makes Livemix the premier monitoring solution for fixed venues, tours and studios.
For users who would like to upgrade their existing system, Digital Audio Labs is offering a limited time trade in program. Details are here.
STEREO PAIRS ARE HERE
A new (and free) firmware update for the Livemix personal monitor system adds some great new features
Stereo Pairs
Now you can add adjacent channels into stereo pairs from the Group Setup screen. Add up to 12 stereo pairs simply and easily from the CS-DUO or CS-SOLO.
Volume Scaling
For those times when you find that your channel volumes are too high (or too low) and your master volume is too low. Simply long press the ADJUST knob for 5 seconds and all 24 (plus accessory) channels will go into a temporary group. Adjust the volume up or down and then press ADJUST again to get out of the Volume Scaling mode.
Other Features
We've improved the short and medium reverbs to be more useable, made the Master EQ sweepable, and prepared the system for our 96K Dante card (coming really soon).
// GLOWING REVIEW
Recording Magazine Reviews the 500TDI & 583S
In our April 2009 issue, Justin Peacock reviewed the 583s preamp, designed by Scott LaChapell of aptly named LaChapell Audio. Justin was very impressed with its sonic character; he described it as a "big, wide and clear sound" that also had "fantastic depth and width," even "Mojo".
At the time, the 2-space 583s was the very first tube mic preamp available for API's 500 Series. Its biggest innovation was Scott's DC-to-DC converter, which converted the API enclosure's supplied 16V power to AC, stepped it up to 250V, and converted it back to DC, making a high-voltage tube preamp design possible in a 500 Series module. Hot stuff… literally!
Fast forward to 2018, and Scott has updated the 583s to a mk2 preamp design. It still makes use of Scott's step-up converter, but now fits into a single-space 500 Series module. The same is true its brand-new sibling, the 500TDI Tube Direct Box. I had a chance to work with them both for several weeks, and was easily as impressed as Justin was!…